Immersion in water is an effective method of managing the physical sensations of your labour and birth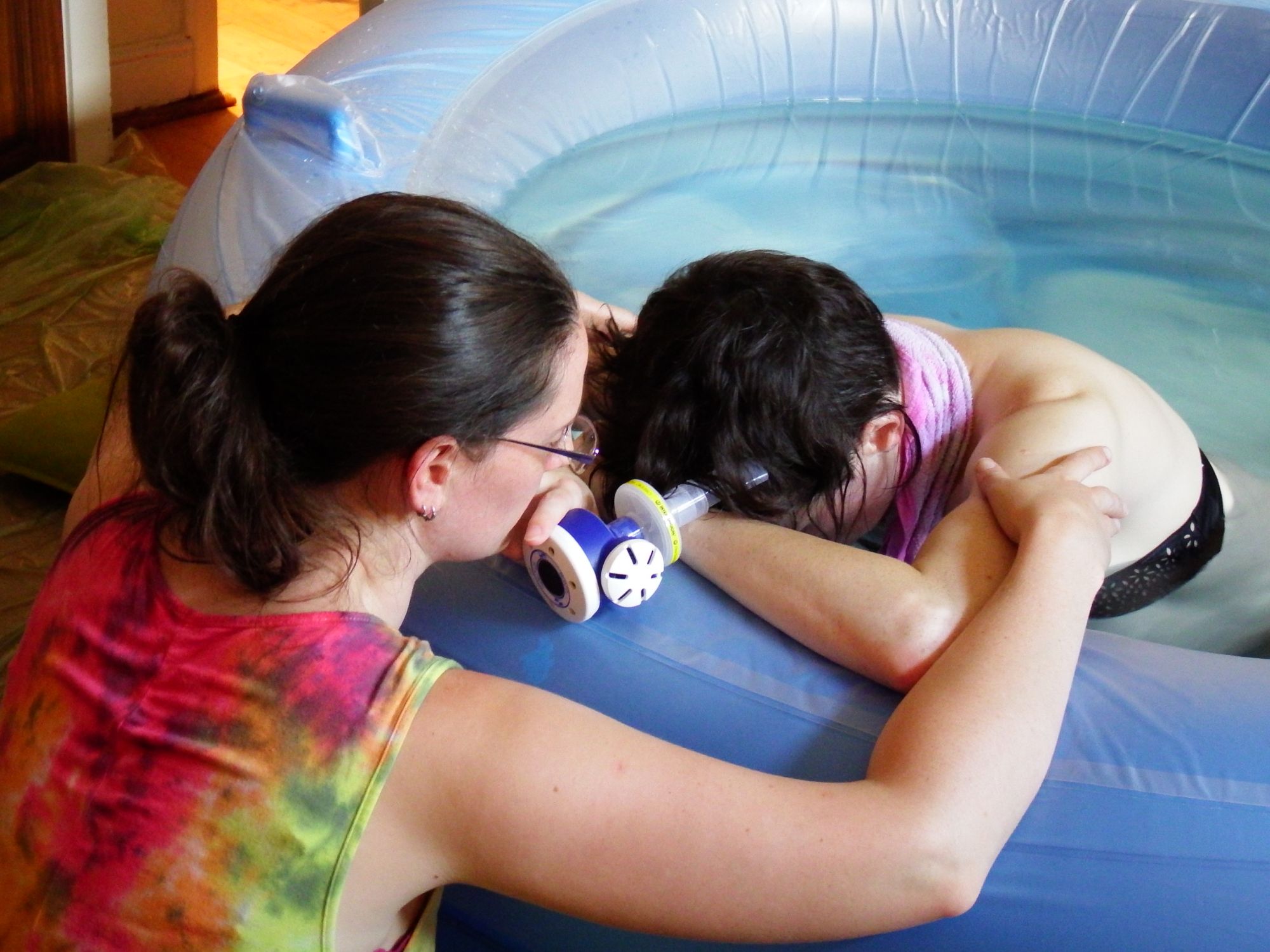 Sometimes water can slow the first stage of labour down. If you feel that may be happening, you can get out again! There is no rule saying you must stay in the pool once you are in it! In fact, it can be beneficial to get in and out of the pool to help the baby move down well into your pelvis.
Some women and birthing people find that the water makes them too hot during labour so they want to get back out again. There is debate about the best temperature for birth pool water to be at but generally, a comfortable temperature for you is best while you are labouring. Your midwives may want to change the temperature to be closer to body temperature as the birth approaches - that is for you to discuss with them.
Using a pool may increase your chance of having a minor tear (or it may not), but it decreases your chance of having a severe tear or episiotomy.
You can read more about the evidence around waterbirth on Evidence Based Birth.
What do you get when you hire a pool/TENS from me?
A professional grade Birth Pool in a Box pool: either regular or mini size
6 weeks hire as standard, from 37-43 weeks, with the option to extend if you have a long pregnancy
Delivery to and collection from your home
Electric pump to inflate and deflate the pool
Lid to cover the pool once filled (to keep the heat in if you don't use it for a long period of time)
Patch kit, in case of emergencies
Tap connectors to fit standard taps
Dirty water pump and hose to empty the pool
Full instructions on how to inflate, fill, empty and deflate the pool
Single User Supplies: a liner, a hose to fill the pool, thermometer, sieve, mirror, anchor
A cord tie as a free gift!
£100 delivered & collected in the Bradford area
What's the difference between the regular and mini pools?
Just the sizes. The price remains the same regardless of which size you choose so you can choose the one that is most suitable for your body size and room space.
A couple of helpful comments...
You will need to contact me to check whether I have a pool available for you to hire around your EDD. You can do so via my contact form.
You will need to download a booking form and T&Cs, complete them and send them to me via email. To complete your booking you will need to send a deposit payment of £20. You can download the forms below as well as paying your deposit. You do not need to have a Paypal account in order to complete the payment.
Download the booking forms here ->
When you hire a TENS you get:
TENS machine with belt/clothing clip
4 brand new pads
2 sets of batteries
full instructions
lanyard
a storage bag to keep everything together
Additional £15 with pool hire
Absolutely! If you would like to organise a payment plan over several months just let me know when you book. So long as the deposit is paid at booking and the balance is fully paid by the time you are 37 weeks gestation you can split the payments however you like.
I also accept payments from friends and family on your behalf.
A birth pool is a great gift!